Display and analysis of FleetLink data
The FleetLink distributed database is easy to use and search, and seeks to maintain up-to-date data archives. Simple tools for data visualization and analysis are available on the database website. Some sample plots of existing climate data may be viewed.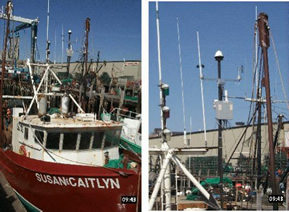 One of the FleetLink vessels, F/V Susan & Caitlyn at the dock in Portland (ME) Harbor (above, left) with a close-up of the sensors of the mast (above, right).
Sensors:
date and time
ship's position
course and speed
air temperature
air pressure
humidity
wind speed and direction
sea surface temperature
sea surface salinity
sea surface conductivity
sea surface sound velocity